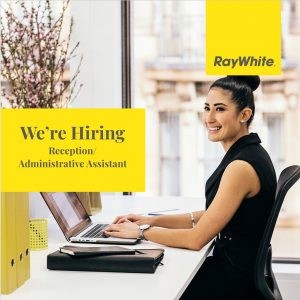 We're Hiring!
Ray White Renmark Paringa are seeking a Receptionist/ Administrative Assistant to join our team.
So what are we looking for?
We want someone who REALLY wants to be in real estate long term – not someone who just wants to "try it out"
We want someone who is passionate and dedicated
We want someone who is eager to learn
We want someone who WANTS to succeed
About you:
A driver's license and own reliable car (a must)
Previous real estate experience (highly desired but not essential);
Previous administrative/receptionist role experience;
An exceptional customer service personality.
Process driven with strong attention to detail
A focused, driven and motivated personality;
Aren't afraid of the extremely competitive industry which requires hard work and persistence;
Extremely organised, efficient, excellent time management skills and ability to multi-task;
Have a history of demonstrating initiative;
Are capable of utilising an advanced vocabulary to describe, explain and market a product when communicating with prospects;
Possess a strong work ethic and positive outlook;
Ability to work effectively under pressure;
High level problem solving skills;
High level personal presentation;
Confident, sociable and strong communication skills;
Professional phone manner;
Highly technically proficient and comfortable with new technologies;
Strong computer skill set (essential)
Proven skill level in Microsoft Word, Excel and Publisher along with the ability to adapt to dedicated real estate computer programmes.
Willingness to learn and adapt to new tasks;
An honest team player who is punctual and reliable;
Possess exceptional follow up;
Forward thinking; and
Content in their role being largely in-office administrative tasks with out-of-office tasks from time-to-time if required.
Your duties will include but are not limited to:
Front of house – greeting clients, handling initial enquiries, giving out keys, organising stationery & office upkeep
Providing support to property management
Providing sales support to all members of the sales team
General administration, banking, postage and filing for sales and property management
Preparing multiple sales documents including: sales proposals, agency agreements, offers, sale contracts and story sheets for conveyancers
Diary management and booking in appointments for the agents
Organise and assist with home appraisals and listing properties for sale
Coordinating marketing, quotes and invoicing – floor plans, staging, trades people, etc
Developing marketing materials, Internet and social media advertising
Handling prospective buyer enquiries and booking in viewing appointments
Preparing vendor reports and providing campaign status updates
Listing to Unconditional management including liaising with vendors, buyers and solicitors/conveyancers
Preparing settlement day gifts and arranging handover of keys
What we can offer:
Extensive support and training;
Personal and professional growth;
Traineeship opportunity available;
A supportive and results driven team environment;
The backing of Australasia's largest real estate network; and
The opportunity to be an integral part of a forward thinking and innovative real estate business.
How to Apply:
If you're motivated by the competitive, fast-paced world of real estate, and can follow through on the administrative detail, while helping people achieve their dreams then…
Please forward a cover letter and your resume giving us an overview of your previous experience, why you think you are suitable for this position and what interests you in this role.
Applications and enquiries to be emailed to: danielle.campain@raywhite.com
Email Subject: Job Application 2021 – Receptionist/Administrative Assistant